Ailuromania Cat Café, Dubai 
For cat lovers, Ailuromania Cat Café is the purr-fect place. Adopted kittens are housed in the café; they are allowed to walk around and be petted as much as you like. Pizzas, pastas, and waffles are all on the menu, along with coffee, tea, and milkshakes. You can let the owners know that you are interested in adoption if you fall in love with any of the cats while you are there. The café is available every day from 11 a.m. to 10 p.m. for a fee of AED 30.
Location: Ta'Rada St – Umm Suqeim – Jumeirah 3 – Dubai – United Arab Emirates
Boomah, Abu Dhabi
Boomah in Abu Dhabi is a right hoot, as the café is home to nine owls. In the UAE's first owl café, you can learn about the animals and hold them while supervised by a trainer. The menu includes mocktails, fresh juices, tea, milkshakes and Speciality coffee. Tickets cost AED 70 for adults and AED 50 for children, and the café is open daily from 2pm to 1am.
Location: Al Seef Mall Al Seef Village Walk – Abu Dhabi – United Arab Emirates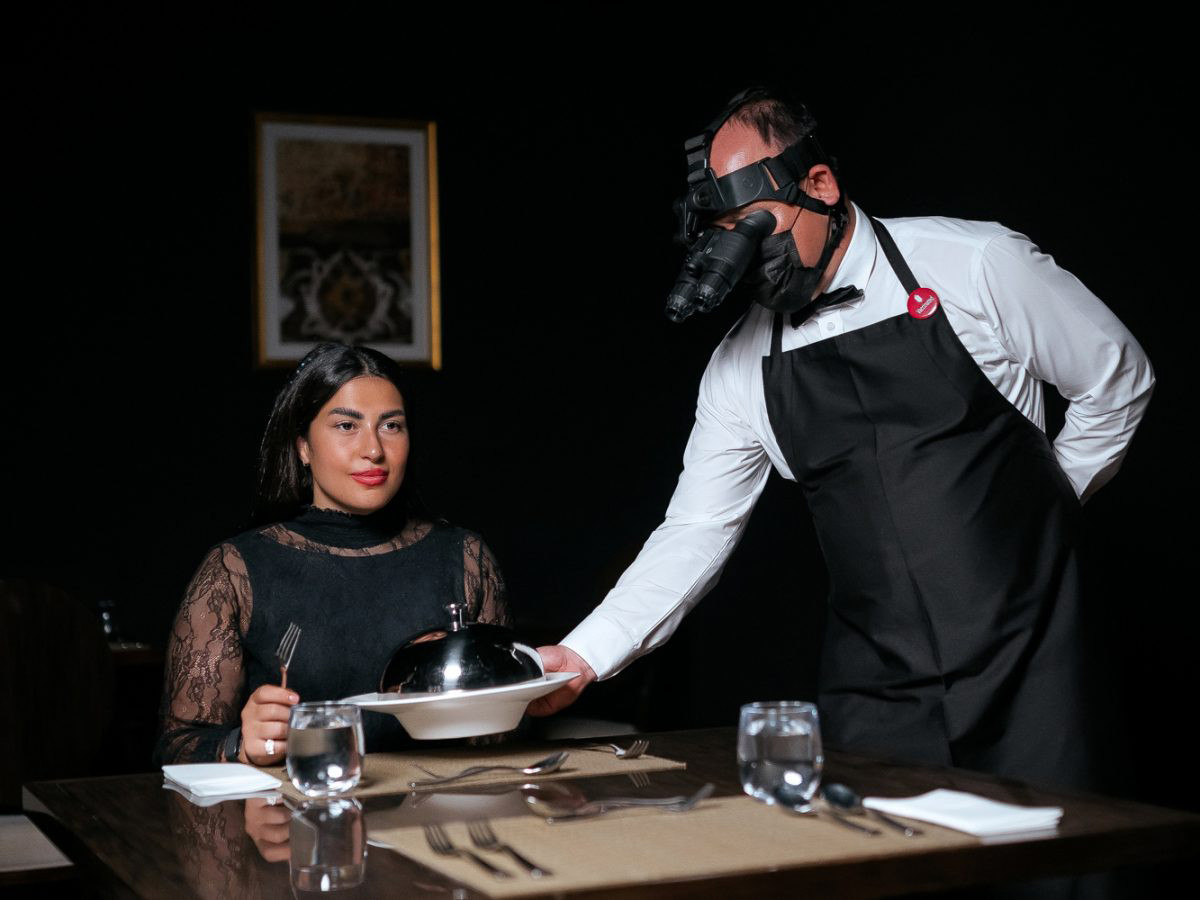 Dinner in the Dark at Fresh Basil, Abu Dhabi
Close your eyes and let your other senses get to work. Dinner in the Dark at Fresh Basil, Bab Al Qasr, is an immersive experience, as you eat in a pitch-black room. Over 90-minutes you'll eat a three-course meal, and waiters with night vision goggles are on hand to help. During the night, you'll be chatting with fellow diners and guessing the flavors. At the end, the (candle) lights get turned on and the dishes are finally revealed.
The Pods, Dubai
 From the outside, The Pods look like a gimmick. From the inside, the 22 pods are perfect for private business meetings, romantic dinners and noisy family get togethers. Located on Bluewaters Island, The Pods have views of Dubai Marina and come in different sizes, seating up to six, eight and 14 people. The Pan Asian menu includes Chinese and Japanese dishes, from dim sum to sushi – order the beef rendang curry, it's soft, spicy and sweet. The restaurant is open from 4pm to 1am from Monday to Thursday, and 4pm to 2am from Friday to Sunday.
Location:  Bluewater Island – Bluewater's Island – Dubai – United Arab Emirates.
Viking Restaurant, Ajman
Game of Thrones fans will feel right at home at Viking Restaurant, which brings to life a medieval dining experience. Goblets and horns adorn the tables, medieval ballads are sung and staff are dressed in Viking costumes. Plus, the food is created using traditional Viking cooking techniques and named after Viking warriors. Every day (except Monday), there are two sittings for dinner: 7om to 9pm and 10pm to midnight. Tickets cost AED 150 for adults and AED 50 for children.