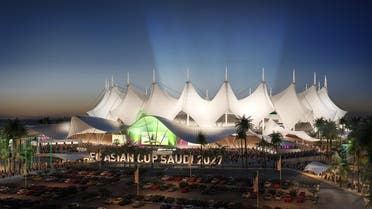 A delegation to the 33rd Asian Football Confederation (AFC) Congress in Bahrain on Wednesday revealed the plans the same day Saudi Arabia won the bid.
Riyadh, Jeddah, and Dammam will each get a new stadium, according to the Saudi 2027 website, which has been giving updates on Saudi Arabia's quest to host the championship.
According to Saudi 2027, the blueprint showed the layout of the Riyadh Stadium, a brand-new venue that would be constructed for the Asian Cup and that is conveniently accessible by metro.
The stadium can hold 22,500 spectators.
The Qiddiya Stadium is a second brand-new stadium that, according to Saudi 2027, "will be one of the beauties that Saudi will deliver to Asia."
There will be enough for 40,000 people in the stadium.
The current King Fahd International Stadium in Riyadh will also host the Asian Cup matches.
According to the proposal, the stadium will be renovated, with extra seats added to accommodate 80,000 people, a track removed, and more amenities built.
The Prince Faisal Bin Fahd Stadium will also witness renovations which will include an addition of seats to accommodate larger crowds. The stadium will be able to fit up to 44,500 fans and will also be reached easily by metro.
As for Riyadh's Mrsool Park, it will host 25,000 fans.
Saudi Arabia's Dammam will have its share of the game where work on the new Dammam Stadium will begin soon.
40,000 football fans may watch and enjoy the games at the stadium, which is built to provide spectators with a one-of-a-kind experience.
Prince Mohammed bin Fahd Stadium and Prince Saud bin Jalawi Sports City in Dammam both offer seating for 22,000 and 30,000 spectators, respectively.
The games will be held in two stadiums in the Red Sea city of Jeddah: the King Abdullah Sport City Stadium and the Prince Abdullah al-Faisal Stadium, which have respective seating capacities of 59,000 and 27,000.