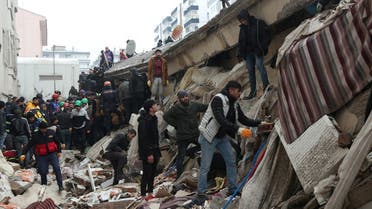 The devastating 7.8 magnitude earthquake that shook large portions of Turkey and neighboring Syria on Monday, killing hundreds there as well, has prompted Ruler of Dubai Sheikh Mohammed bin Rashid to order $13.6 million (Dh50 million) in humanitarian relief for those impacted.
According to state news agency WAM, the humanitarian supplies would "give help to individuals devastated by the most destructive earthquake that the country has seen in decades."
The Mohammed bin Rashid Al Maktoum Global Initiatives will provide the help to Syria's most vulnerable populations in the form of ration packets.
The country's relief organization AFAD said Tuesday that the dead toll from a devastating 7.8-magnitude earthquake in Turkey had risen to 2,921.
Following an earthquake that was thought to be the largest to strike the region in in a century, the latest report takes the total number of verified fatalities in Turkey and neighboring Syria to 4,365.
In the early hours of Monday, the earthquake shook most of Turkey and neighboring Syria.
The pre-dawn earthquake startled residents out of their sleep, and many hurried outdoors in the snow and rain to avoid falling rubble while some who were trapped screamed for aid. Major aftershocks, including one that was almost as powerful as the first quake, kept the area trembling.
The earthquake, which had its epicenter in the province of Kahramanmaras in southeast Turkey, was felt as far away as Cairo, Egypt. A second 7.5 magnitude jolt that occurred hours later and may have been an aftershock impacted more than 100 kilometers (60 miles) from the earthquake's epicenter and left behind considerable damage.