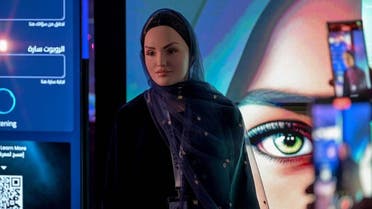 Meet Sara; Saudi Arabia's first robot who can communicate in the local dialect, perform popular dances, and respond to enquiries.
Sara has been welcoming visitors to the Kingdom's Digital Pavilion at the LEAP23 conference in Riyadh, state news agency SPA reported Tuesday.
Artificial intelligence is used via a built-in camera to detect when humans are in front of the robot. Greeting a visitor with the words "Hello Sara" will get them talking.
Sara is equipped with a pre-trained model that can identify various regional accents within the Kingdom, analyze and comprehend phrases, and then provide the appropriate response as text.
One of the highlights of this year's LEAP, the second iteration of a significant technology conference, is Sara. Snap, Aramco, and Zoom officials are scheduled to have displays at this year's LEAP.
Oracle, a provider of cloud computing services, made a commitment to spend $1.5 billion in Saudi Arabia as part of its opening statement at the LEAP conference.
The Kingdom, which aims to modernize its economy, invested $6.4 billion in technology during the last event.
The Riyadh Front Expo Center will host LEAP from Monday, February 6 to Thursday, February 9.
More than 720 speakers from 50 different nations will participate. Google, NEOM, Mastercard, Ericsson, and John Lee, the head of the Hong Kong Special Administrative Region, are among the more exhibitors.
The Saudi Federation for Cyber Security and Programming and the Kingdom's Ministry of Communications and Information Technology (MCIT) jointly control Tahaluf, a strategic joint venture that staged LEAP. More than 100,000 individuals are anticipated to participate in total (SAFCSP).
There will also be celebrity guests who are active in the technology industry, including rapper William and footballer Charles Puyol.